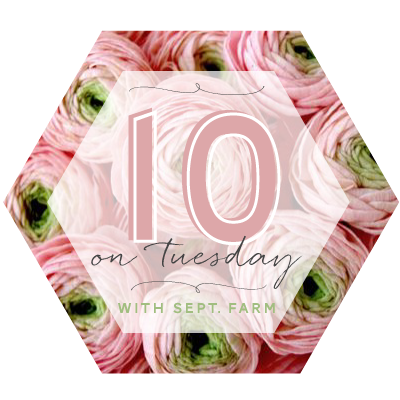 I am teaming up again with Karli from September Farm to give you another 10 on Tuesday. Be sure to check out her blog.
10 Activities my Boys like to do that are Inexpensive/FREE
1.Visit our local humane society. We love to go play in the kitten room, visit the roosters and hens, and to pet bunnies. I think going here to love on the animals is great for getting the boys familiar with all types and sizes of animals. Our local shelter is literally one mile away and our favorite park is a minute from it so it is always a win win.
2. Invite friends over for a play date. Calvin and Max LOVE having friends over and it makes it easy for us since we don't have to leave the house. The great thing about play dates is there is no prep. We usually do a small snack and some coffee but we keep it low key and let the kids have fun.
3. Go to the farmers market. Calvin and I did this a lot more before Max was born but I am putting it on the calendar for the upcoming months. We love all the samples, smells, and visiting local shops. I normally bring the boys some water and we make it a "snack adventure" trying all the local organic fruit and veggies.
4. Go to the park. We have a lot of great parks in our community and Max is finally at the age where new jungle gyms excite them. The only downfall of going to them is that Calvin always asks when he will see his "friends" again.
5. Coupon and find local deals at bakeries and free community events. The bakery that made our wedding cake, Cute Cakes has a coupon that goes out every month for a buy one get one free cupcake. We usually buy one for later and split the other at the store. There is something magical about letting your kid chose their own dessert and it makes for a nice afternoon. Once a year our town holds a truck event where kids get to sit inside garbage trucks, ambulances, crane trucks, etc. It is like Christmas morning to a truck-loving boy like mine. During the summer months our town also has a Cruising Grand event where old cars line the streets and their is lots of live music and activities for free.
6. Chick-fil-A. This is the one restaurant that both of my kids can sit at, eat, and smile the entire time (Souplantation as well). I worked there for many years and love their food quality and how kid-friendly they are. I try to make it a learning experience and let Calvin order his own meal and help me set the table with napkins and straws. For under $10 the 3 of us can eat and we usually stop by Target afterwards.
7. Go to the local farm. We have an awesome farm, Bates Nut Farm that has a lot of farm animals that you can feed and pet. It is only a few minute drive away from us and I pack a lunch most of the time so we spend a good portion of the morning there. Inside the store I let Calvin sample the free fudge and pick out one treat. By the time we are done playing here both boys are ready for a nap and I have virtually spent no money.
8. Go look at model homes. At different times when the boys were infants my mom and I would do this for fun. I would put my baby in my carrier and loved looking at all the decorating ideas at new homes. It is a fun and free way to get out of the house and feel like you have done something.
9. Cook or bake. Calvin LOVES to put together "ingredients" and we often bake a treat or make something together. It is a great way to use things in the pantry and also is a learning opportunity with counting, measuring, and exploring different flavors.
10. Stroll the neighborhood. We have some great neighbors and walking trails where we live. The boys love seeing different dogs on our walks and love saying "hi" to anyone that will say hi back. Once 4:30 PM rolls around we love to ride bikes in the cul-de-sac, get the mail, and play with our friends. This may seem like a no brainer but not many people come out of their homes now a days.
What are your favorite activities to do with your kids that does not cost a lot of money? What are your favorite places to visit?