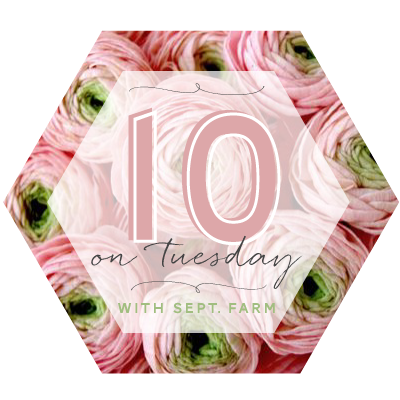 Today I am linking up with Karli from September Farm. I love reading peoples 10 lists so here goes nothing.
10 Things I wish I had done before having kids
1. Gone on a big food trip with Nick. We have always wanted to eat our way through an area and I think since we were younger and our metabolisms worked better a few years ago this would have been a great adventure (think New York, Dallas, Seattle, Portland, Boston)
2. Get certified as a cycling instructor. I love cycling and have been doing it for over 7 years now. I always have wanted to be a instructor but never took the classes or certifications. Still on my to-do list.
3. Host a big black and white New Years' Eve party. Nick and I have always wanted to have huge gala at our house for NYE complete with champagne, lights, appetizers, and music. Now with kiddos I do not think this would work since I doubt our kids would ever be able to stay up until midnight and you know I hate to wake a sleeping baby.
4. Find a career I am passionate about. My dream "job" has always been to be a stay-at-home mom but I wish that I found my niche so that when I do go back to work I would start where I left off. I have a Bachelors degree in Communication but it is such a broad degree that finding something that I would love to do seems like a hard task with an ever changing job market.
5. Take dance lessons with Nick and do some competitions. I am a huge Dancing With the Stars fan (going to see Val and Maks live in August ;) We both are not the best dancers and have always talked about lessons. We have intentions of taking them soon but it is hard to commit to something that is weekly that requires both of us to be out of the house at the same time.
6. Read all the books. JK! I am a more recent book lover. Growing up I only read what was required of me for school and never had a passion for literature. Now that my time is a quarter of which I had years ago I wish I read more when my nights were not as precious. I read often but it takes me so much longer to complete a book. I consider it a blessing the days I get to read more than one chapter of the bible a day.
7. Pay off student loans. I do not do the finances in our family but I know that we do have some hefty student loans. I think that having the burden of those overlooking our shoulders would have been nice to have removed before having kids. If we didn't have loans we would probably have a mortgage or a car payment.
8. Completed all of the adoption classes we need to go to and did more research on adoption options. Adoption has always been something I have wanted to do and Nick is on bored and excited about this future possibility too. There are a lot of classes required that are in the evening and it could have been helpful to have done all of that before having biological kids since I know waiting for a child can take a long time. There are also so many options on which route to take with adoption but I do not have the time or energy to explore all of them right now. We do think that domestic adoption is the route we will take though once we finalize our living situation.
9. I wish that I would have explored in the kitchen more. I love to cook and although I have some staple recipes that I rotate for dinner I think that it would have been great to try new things when I didn't have four extra hands in my cooking bowls. We got pregnant after being married for a little over a year and I was a student before that so our meals were nothing great. If I could go back I would try a whole bunch of Ina Garten's recipe books and maybe even take a few cooking classes and knife/cutting lessons.
10. Lastly, I wish I would have done something totally out of my comfort zone. I am a worrywart and am not spontaneous by any means. But now that I have kids I find myself even more reserved. I wish I would have done a hot air balloon ride (to me this is scary and inticing), but something that would be a once in a lifetime challenge without having to worry about little ones waiting for you at home.
I do not regret for a second that I did not get to do all of things mentioned above but if I think they would have been neat to have completed before having them. Each stage in my life I am amazed even more about how faithful God is to our needs. My two boys and Nick have brought me so much joy and there will never be a better calling in my life than wife and mother. My hope is to one day accomplish these dreams, maybe when my boys are off at college. How much you want to bet I will have different dreams by then
What are some things you wish you would have done before having kids? What are things that you did do?